A visionary across an array of fields, the impact that Fortuny had on both the realms of lighting and fashion is still very apparent in the world today.
Mariano Fortuny is recognised as one of the greatest Renaissance polymaths and inventors due to the profound effect of his work in lighting. In 1904 he patented his indirect lighting system, what came to be commonly referred to as the 'Fortuny Dome', a design that comprised of electrically powered, flexible arc lamp mechanisms indirectly concentrated on coloured pieces of silk.
The properties of the silk would cause ambient, coloured reflections to spread onto a half-spherical cyclorama, making it possible to generate even spreads of ambient light in a plethora of different colours.
This utterly revolutionary discovery was a monumental advancement in the period and allowed for people (most notably those working in the theatre) to possess the ability to create indirect, reflected areas of light that could be cast without the presence of a shadow. A purely dazzling piece of concisely devised technology that would go on to shape the way we use and manipulate light today.
The sheer brilliance of the technical characteristics and adaptability of the various models of silk Fortuny lamps is still in existence today, as the talented team at Fortuny have continued to apply the very craft and skillset pioneered by Mariano Fortuny in the early twentieth century, in order to preserve and maintain that same style and high quality.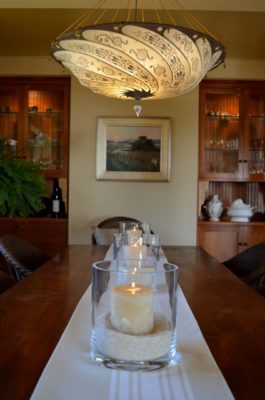 The silk used by the skilled and devoted workers at Fortuny, is woven from yarn with very long fibres of a good texture and thickness, ensuring that these modern recreations of Fortuny's iconic lamps are made to the highest specification.
These elegant design finishes are decorated and modulated on metal structures. Silk, an incomparable filter of light, transforms each lamp into a genuine and authentic sculpture.
Sophisticated and enchanting, with an air of premium quality and a touch of the experimental, these stunning pieces blur the line between the domineering beauty of fashion and the pure power of the technological sciences that Fortuny utilised when creating these light fittings.
There is an array of different styles available from Fortuny, all in keeping with the original design patterns and stylistic flourishes employed by Fortuny in this period of ingenuity. These include floral, geometric, plain and herbarium arrangements and preserve a sense of timeless quality, whilst also doffing their cap to the other-worldly shapes and inspirations of the Orient, a recurring theme in much of Fortuny's work.