Isadora Duncan danse sur la plage © Arnold Genthe/Wikimedia
Isadora Duncan (San Francisco, California 1878 – Nice 1927) has been defined by critics as the founder of modern dance, a pioneer of a dance called "natural" or "free" of Hellenic inspiration. She was one of four children and lived the first years of her life in total poverty. Her desire for redemption came in her teenage years when she, driven by the love for dance, took on classical academic studies, even if she rejected the rigidity of the classic ballet and based her dancing on more natural rhythms and movements, an approach she later used consciously in her interpretations of the works of such great composers as Brahms, Wagner, and Beethoven.
With her forceful personality, Isadora challenged social conventions in every aspect of her life, she became a fashion icon and set trends on and off the stage. The sincerity and simplicity of movement found their expression in a minimalist dress style, composed of a tunic or a semi-transparent veil over the dancer's naked body. The admiration for the natural forms of the body was a fundamental aspect of Isadora's ideology.
She felt free to dress without splints that artificially hold back her graceful forms or abundant pieces of fabric that do not allow her fluid mobility.
Isadora Duncan was a pioneering figure in both the artistic and aesthetic domains. For her, the revolution in dance required a revolution in dress, not just on stage but in all the facets of her life. She reaffirmed her ideology and expressed her creativity, often challenging established tradition, not just dancing but also with dresses: she combined pieces of cloth and shawls, often decorated with Chinese embroidery, which she wore in a variety of ways and also designed her own dance costumes.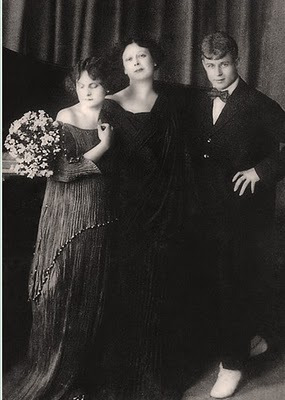 Around 1909 Isadora Duncan met Paul Poiret, famous Parisian couturier who, at the time, was making dresses without waists and released the female body from the unnatural restrictions imposed by corsets and other such garments. Although Mariano Fortuny was not part of the Parisian haute couture, his innovative designs were immensely popular among the avant garde ladies of European and American artistic society. Plus, dance and theatre were Fortuny's favourite contexts, in fact he designed a silk scarf printed with Greek motifs known as the Knossos shawl, which adapted to the shape of the body and allowed the dancers great freedom of movement. It is no surprise that Isadora became a dedicated follower of his creations, which she wore both on and off the stage.
Fortuny's most celebrated design is probably the Delphos which first appeared around 1907, like many of his pieces this was inspired by Greek drapery. It was originally designed as a "house" dress as it was worn without a corset. Before long though avant garde women, first from all Isadora Duncan began wearing them outside the house and they became a popular item for more daring ladies.
In her short life (she died strangled at forty-nine after her scarf got entangled in the wheel of her moving car, breaking her neck) Isadora had to face immense soul pains triggered by tragic life events, such as the death of her daughter and son in a car accident, and the year after the stillbirth of a child. These tragedies alone were enough to sign the decline of her career, Alcohol and a life lived without inhibitions inevitably lead her away from the international stages.
Some manuscripts of her remain, including her autobiography My Life.